It's Friday. Here's what's happening.
************************************************
Today is March 8th, the 67th day of 2013. There are 298 days left in the year.
************************************************
Blackhawks recall Bollig, expect Hossa
to play Friday
.
Board of Governors vote next
for realignment plan
.
Visit the official league website,
http://www.nhl.com/
.
************************************************

Today's Birthdays: Micky Dolenz of The Monkees is 68; Aidan Quinn (Benny and Joon, Legends of the Fall, Michael Collins) is 54; James Van Der Beek (Dawson's Creek, Don't Trust the B--- in Apartment C) is 36.



************************************************
Tampa, FL. --
A late rally fell just short Thursday night, as the Tampa Bay Lightning put forth a valiant effort in the latter stages of the third period, but didn't come out on top at the end of regulation.
Steven Stamkos scored the only goal for the Lightning to erase a one-goal deficit, and Anders Lindback was strong in net, making 26 saves, but as the Bolts fell 2-1 to the division-rival Winnipeg Jets in front of another sellout crowd of 19,204 at the Tampa Bay Times Forum.
Read the rest
here
.
************************************************
A city councilman in Nelson, Georgia is proposing that every household there be required to own a gun. ["Son, I don't want to watch Downton Abbey any more than you do but your Ma's got both the remote and the gun."]
************************************************
Fairbanks, AK. –
Two second period goals by Jacob Hetz were the difference Thursday night, as the Fairbanks Ice Dogs defeated the Wenatchee Wild 3-1 in the first of a three-game West Division showdown in front of 2,242 at the Big Dipper Ice Arena in Fairbanks, Alaska.
Despite being outshot 16-5 in the opening period, the Wild stayed even at 0-0 with Fairbanks, thanks to a handful of big saves by Robbie Nichols (Dallas, Texas).
Jacob Hetz gave Fairbanks the lead early in the second, assisted by Kyle Lee and Garret Clemment at 2:29 for a 1-0 Ice Dogs advantage. Wenatchee tied the game at 8:05 thanks to some good puck movement that found Chris Kerr (Penticton, British Columbia) for a back door feed into the open side of the net. Kerr's 17th goal of the season was assisted by Noah Nelson (Oconomowoc, Wisconsin) and Josh Hartley (Coquitlam, British Columbia). Hetz would score again on a turn-around shot from out in front at 9:49, assisted by Clemment, giving Fairbanks a 2-1 lead.
The Ice Dog lead grew early in the third, when Max Birkinbine was fouled from behind on a breakaway, then scored on the ensuing penalty shot at 3:44 for a 3-1 advantage. The Wild would empty the net in the late going but were unable to get the equalizer, with Fairbanks holding on for the 3-1 win.
The Ice Dogs outshot Wenatchee 31-26 on the night. Nichols played well despite allowing 3 goals, making 28 saves for the Wild. Steve Perry had a solid night as well, made 25 saves for Fairbanks. Neither team scored on the power play, Wenatchee in 2 turns, the Ice Dogs in 3 tries. "In the first period they (the Ice Dogs) came out with a lot of jump, really took it to us" said to Wild Head Coach Bliss Littler. "Second and third period I thought we competed pretty hard. The chances they (Fairbanks) had, they made the most of them and we weren't able to convert on our chances. Our effort in the second and third was pretty good, not good enough in the first."
Wenatchee's record moves to 36-9-6 on the season, the Ice Dogs improve to 34-14-3, drawing Fairbanks to within 7 points of the first place Wild in the NAHL's West Division.
The Wild stays in the Frozen North for five more games starting tomorrow night at Fairbanks (8:30pm PST on Friday and Saturday, March 8th and 9th), before moving on to Kenai River for three games (8:05pm PDT on March 14th, 8:30pm PDT on Friday and Saturday, March 15th and 16th) the following week. The Wild will then close out the regular season with a four-game home-and-home series versus Fresno, with games in Wenatchee on Friday and Saturday, March 22nd and 23rd (7:05pm PDT both nights), then in Fresno on Friday and Saturday, March 29th and 30th (7:35pm PDT both nights). Individual and group game tickets for all remaining home games are on sale now. Call 509.888.PUCK (7825).
************************************************
A dog license law was enacted in the state of New York on this date in 1894. It was the first animal control law in the U.S.
************************************************
New Learn-to-Skate Curriculum Announced
Uses Two-track Focus to Teach Beginners
COLORADO SPRINGS, Colo. – USA Hockey today announced a new, comprehensive Learn-to-Skate curriculum, intended for entry-level players across the country.
The focus of the curriculum, which includes two tracks (Learn-to-Skate 1, Learn-to-Skate 2), is to teach beginning hockey players, typically ages 4-10, the fundamentals of skating.
"We're excited about this curriculum," said Ken Martel, technical director of the American Development Model for USA Hockey, who noted that U.S. Figure Skating assisted in the development of the materials. "It's important for players to be comfortable on the ice, learn the basic hockey stance, stride, knee bend, use of edges and how to hold a stick before moving into a learn-to-play, 6U or 8U full hockey curriculum."
The Learn-to-Skate curriculum is available on USAHockey.com by clicking
here
and will also be distributed to USA Hockey associations, rinks and skating instructors across the country.
The Learn-to-Skate curriculum, which will be available on USA Hockey's Mobile Coach App in the near future, is part of USA Hockey's American Development Model.
The ADM, endorsed by the National Hockey League, provides age-appropriate guidelines to hockey associations across America to help more kids play, love and excel in hockey.
Three Finalists Named for 2013 Patty Kazmaier Memorial Award
16th Annual Award to be Presented March 23 in Minneapolis
COLORADO SPRINGS, Colo. - Senior defenseman Megan Bozek (Buffalo Grove, Ill.), junior forward Amanda Kessel (Madison, Wis.) and senior goaltender Noora Räty (Espoo, Finland), all of the University of Minnesota, have been named the Top-3 Finalists for the 2013 Patty Kazmaier Memorial Award. It is the first time ever that the Top-3 Finalists all represent the same university.
The three players have helped the University of Minnesota women's ice hockey team to a perfect 36-0-0 record this season. The Gophers are in the midst of an NCAA-record 44-game winning streak, dating back to last season.
2013 Patty Kazmaier Memorial Award
Finalists
Megan Bozek
• Univ. of Minnesota
Senior • Defenseman • 36GP, 18-34--52
Amanda Kessel
• Univ. of Minnesota
Junior • Forward • 32GP, 43-51--94
Noora Räty
• Univ. of Minnesota
Senior • Goaltender • 33-0-0; 0.93; .956
The 2013 Patty Kazmaier Memorial Award will be awarded at a brunch ceremony on Sat., March 23, at the McNamara Alumni Center in Minneapolis, in conjunction with the NCAA Women's Frozen Four. The award, which is in its 16th year, is given out annually by The USA Hockey Foundation to the top player in NCAA Division I women's ice hockey.
The selection process began in late February, when NCAA Division I women's ice hockey coaches were asked to nominate players for the award. Players who were nominated by two or more coaches were then placed on an official ballot, which was sent back to the coaches to vote for the Top-10 finalists.
The three finalists were then chosen by a 13-member selection committee comprised of NCAA Division I women's ice hockey coaches, representatives of print and broadcast media, an at-large member and a representative of USA Hockey, the national governing body for the sport of ice hockey in the United States.
The independent accounting firm PricewaterhouseCoopers, LLP, tabulated the ballots.
Tickets to the 2013 Patty Kazmaier Memorial Award Ceremony and Brunch can be purchased at
PattyKaz.com
.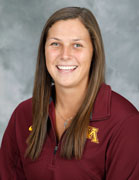 Megan Bozek
As team captain for the Golden Gophers, Bozek anchors a defense that is first in the NCAA in goals allowed per game (0.81). She ranks seventh in the NCAA in assists with 34 and second among defensemen. Additionally, Bozek currently has 52 points (18G, 34A), second among the nation's blueliners, and has 17 multi-point games to her credit in 36 games played. In Western Collegiate Hockey Association play, Bozek accumulated 20 power-play points (7G, 13A), second in the league. She also tied for seventh in the WCHA with 14 goals. A Hockey Humanitarian Award nominee, Bozek's spends significant time volunteering in the community, with more than 200 hours logged to assist groups such as HopeKids, Feed My Starving Children, Amplatz Children's Hospital and local elementary schools.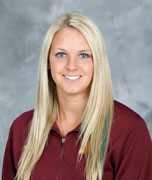 Amanda Kessel
Kessel leads the NCAA in goals (43), assists (51), points (94), points per game (2.94), goals per game (1.34), assists per game (1.59), short-handed goals (5), and is second in game-winning goals (8). She has recorded a point in each of the 32 games she has played this season and has 28 multiple-point games, including 11 contests with at least four points and 20 games with at least three points. In addition, Kessel has been a key component in helping the Gophers to a 31.9% success rate on the power play this season, tops in the NCAA. Kessel is active in the local community and volunteers her time at places such as HopeKids, Feed My Starving Children, Amplatz Children's Hospital and several local elementary schools.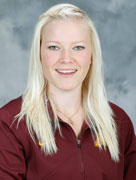 Noora Räty
Backstopping the University of Minnesota during its current 44-game winning streak, Räty has a perfect 33-0-0 record this season and has established a new NCAA single-season record with 15 shutouts to date. Räty also leads the nation in save percentage at .953 and is second in goals against average at 0.93. Thanks in part to Räty, Minnesota currently boasts the second-best penalty kill in the NCAA at .922. Räty is active with multiple community service and volunteering efforts, as she dedicates her free time to charities such as HopeKids and Feed My Starving Children while also participating in outreach to Amplatz Children's Hospital and several local elementary schools.
NOTES:
For more information on the Patty Kazmaier Memorial Award, visit
PattyKaz.com.
ABOUT THE PATTY KAZMAIER MEMORIAL AWARD
An award of The USA Hockey Foundation, the Patty Kazmaier Memorial Award is annually presented to the top player in NCAA Division I women's ice hockey. Selection criteria includes outstanding individual and team skills, sportsmanship, performance in the clutch, personal character, competitiveness and a love of hockey. Consideration is also given to academic achievement and civic involvement.
ABOUT PATTY KAZMAIER
The Patty Kazmaier Memorial Award is named in honor of the late Patty Kazmaier, who was a four-year varsity letter-winner and All-Ivy League defenseman at Princeton University from 1981-86. An accomplished athlete who helped lead the Tigers to the Ivy League Championship in three consecutive seasons (1981-84), Patty Kazmaier-Sandt died on Feb. 15, 1990, at the age of 28 following a long struggle with a rare blood disease.
Patty Kazmaier Memorial Award Winners
| | | |
| --- | --- | --- |
| 2012 | Brianna Decker | University of Wisconsin |
| 2011 | Meghan Duggan | University of Wisconsin |
| 2010 | Vicki Bendus | Mercyhurst College |
| 2009 | Jessie Vetter | University of Wisconsin |
| 2008 | Sarah Vaillancourt | Harvard University |
| 2007 | Julie Chu | Harvard University |
| 2006 | Sara Bauer | University of Wisconsin |
| 2005 | Krissy Wendall | University of Minnesota |
| 2004 | Angela Ruggiero | Harvard University |
| 2003 | Jennifer Botterill | Harvard University |
| 2002 | Brooke Whitney | Northeastern University |
| 2001 | Jennifer Botterill | Harvard University |
| 2000 | Ali Brewer | Brown University |
| 1999 | A.J. Mleczko | Harvard University |
| 1998 | Brandy Fisher | University of New Hampshire |
Easton Renews Partnership With USA Hockey
COLORADO SPRINGS, Colo. – Easton has renewed its agreement with USA Hockey as an official equipment supplier and an official marketing partner.

Easton will provide hockey equipment to all U.S. National Teams and various USA Hockey programs over the term of the agreement.

"Our relationship with Easton has been terrific and we are pleased to continue it," said Dave Ogrean, executive director of USA Hockey. "Easton shares our goals in growing and developing hockey at all levels across the United States."

"We're excited to continue our partnership with USA Hockey," said Jim Darby, vice president of hockey marketing for Easton Sports. "We appreciate the responsibility that USA Hockey takes in building the sport across the country and we proudly support their outstanding effort."


ABOUT USA HOCKEY
USA Hockey Inc., founded on October 29, 1937, and headquartered in Colorado Springs, Colo., provides the foundation for the sport of ice hockey in America; helps young people become leaders, even Olympic heroes; and connects the game at every level while promoting a lifelong love of the sport. With a membership of nearly 600,000 players, coaches, officials and volunteers that span all 50 states, USA Hockey serves as the National Governing Body for the sport in the United States and has important partnerships with the National Hockey League, United States Olympic Committee and International Ice Hockey Federation. For more information, visit usahockey.com.
ABOUT EASTON
Easton Sports is a developer, manufacturer, marketer and distributor of baseball, softball, hockey, and lacrosse equipment for both sports professionals and enthusiasts. Easton focuses on its ability to innovate and create products of unmatched quality and performance including the #1 bat in the College World Series®, Women's College World Series®, Little League World Series®, and Slow-Pitch Softball, as well as the #1 stick in the National Hockey League. Headquartered in Van Nuys, Calif., Easton Sports maintains facilities in Utah, California, Mexico, Canada and Asia. For further information, please visit the company online at www.easton.com.




************************************************
Facebook Thursday announced changes to its News Feed. The biggest change: Facebook has completely rebuilt each story to be much more bright and colorful and highlight the content that your friends are sharing. The changes have already started rolling out to some Facebook users.
************************************************
Pedersen: Riders change off-season mentality.

CFL expands scouting combines in advance of 2013 Draft.

Visit the league's official website at cfl.ca.

************************************************

On Reddit: This is the letter my best friend made me when I was in ICU with short term memory loss.

************************************************
Tampa, FL. — The Buc fans' inside man continues his current three-parter with a trio of questions involving rookie running backs, contract incentives and something known as a palpably unfair act.

Read the rest here.

************************************************
A group of German construction workers had to be taken to the hospital for treatment after smashing their heads repeatedly against a truck window to find out who had the strongest forehead.
************************************************
Mr. Construction at work.
************************************************

You're reading the Johnny Blog. Almost as much fun as staying up late to watch hockey again, isn't it?

************************************************
1961 -
Tennessee Governor Buford Ellington gave the honorary title of colonel to Elvis Presley.
1968 -
The Elvis Presley movie "
Stay Away Joe
" premiered.
1975 -
Elvis Presley's "My Boy" hit #20 in the U.S.
************************************************

In New York City on this date in 1946, the "Journal American" became the first commercial business to receive a helicopter license.

************************************************
Today in Beatles History:
1962 -
The Beatles appeared on "Teenager's Turn." It was their first radio appearance.
1973 -
Paul McCartney
pled guilty to charges of growing marijuana outside of his Scottish countryside farm. He claimed that a fan had given him the seeds and that he did not know what they would grow. He was fined $240.
************************************************

CBS radio debuted "Marie The Little French Princess" on this date in 1933. It was the first daytime radio serial.

************************************************
1930 - The New York Yankees signed Babe Ruth to a two-year contract worth $160,000.

1954 - Herb McKenley set a world record for the quarter mile when he ran the distance in 46.8 seconds.

1954 - The Milwaukee Hawks and the Baltimore Bullets played the first double header in NBA history.

1957 - The International Boxing Club was ruled a monopoly putting it in violation of the Sherman Anti-Trust Law.

1971 - Joe Frazier retained his world heavyweight championship by defeating Muhammad Ali in a 15-round decision. It was Ali's first loss in 32 professional fights.

1986 - Martina Navratilova became the first woman tennis player to win more than $10 million in her career.

2004 - Todd Bertuzzi (Vancouver Canucks) hit Steve Moore (Colorado Avalanche) in the side of the head from behind and drove his head into the ice. Moore landed face-first with Bertuzzi on top of him. Moore suffered a broken neck, a concussion and deep cuts on his face. On March 11, the NHL suspended Bertuzzi for the remainder of the regular season and the playoffs and announced that his eligibility would be assessed the following season and would take into account Moore's health and the progression of his recovery.

2006 - NFL owners and the players' union agreed on a union proposal which extended the collective bargaining agreement for six years.


************************************************

Groucho, Chico and Harpo made their final TV appearance together on this date in 1959.

************************************************

Tonight --


Saturday --
Nascar Nationwide Series -- Sam's Town 300 at Las Vegas Motor Speedway 4:00pm EST
NHL Hockey -- Tampa Bay Lightning vs. Montreal Canadiens 7:00pm EST
Sunday --
Nascar Sprint Cup Series -- Kobalt Tools 400 at Las Vegas Motor Speedway 3:00pm, EDT
************************************************
That's all for today. Thanks for stopping by, see you tomorrow!