It's Friday. Here's what's happening....
************************************************
Today is April 19th, the 109th day of 2013. There are 256 days left in the year.
************************************************
Hockey plays its part in promoting
Boston healing
.
Network slate features playoff
implications aplenty
.
Visit the official league website,
http://www.nhl.com/
.
************************************************

Today's Birthdays: Ashley Judd (Divine Secrets of the Ya-Ya Sisterhood) is 45; TV personality Jesse James is 44; James Franco (Oz the Great and Powerful, 127 Hours) is 35; Tennis player Maria Sharapova is 26.



************************************************
Montreal, PQ. --
Once again, the Tampa Bay Lightning proved it is no problem to come from behind.
Richard Panik and Vincent Lecavalier each had goals for Tampa Bay, which fought back from a two-goal deficit on Thursday night before falling to the Montreal Canadiens 3-2 at the Bell Centre.
Read the rest
here
.
************************************************
The California Historical Society was founded on this date in 1852.
************************************************
Fresno, CA. --
The Wenatchee Wild's postseason is still alive and well after a 4-2 road win Thursday against the Fresno Monsters.
The teams will meet for a decisive game five of the North American Hockey League West Division playoff series Sunday at Town Toyota Center.
Read the rest
here
.
************************************************
The Duryea gasoline buggy was introduced in the U.S. by Charles and Frank Duryea on this date in 1892.
************************************************
Kampersal Named Head Coach of the U.S. Women's National Under-18 Team
Courtney Kennedy and Katie Lachapelle to Serve as Assistant Coaches
COLORADO SPRINGS, Colo. – USA Hockey announced today that Jeff Kampersal (Pennington, N.J.), head women's ice hockey coach at Princeton University, has been named head coach of the U.S. Women's National Under-18 Team for the 2013-14 season. Joining him as assistant coaches will be Courtney Kennedy (Somerville, Mass.), associate women's ice hockey coach at Boston College, and Katie Lachapelle (Winthrop, Mass.), assistant women's ice hockey coach at Boston University.
"Jeff, Courtney and Katie represent a unique combination of playing and coaching at the highest levels and have contributed greatly to our development programs," said Reagan Carey, director of women's hockey at USA Hockey. "Building on the continuity from last season will help the overall progression of our nations most talented U18 players."
The trio will lead the U.S. Women's National Under-18 Team at the 2013 Women's Under-18 Series against Canada in Lake Placid, N.Y., from Aug. 21-25, and at the International Ice Hockey Federation Under-18 Women's World Championship that is anticipated to take place in the Spring of 2014.
ABOUT KAMPERSAL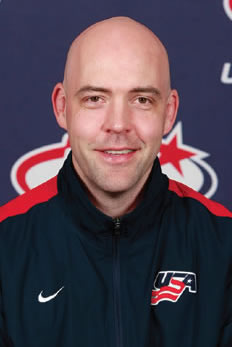 Kampersal has extensive experience with USA Hockey and led the team last season in the 2012 Women's Under-18 Series and the 2013 IIHF Under-18 Women's World Championship. He has also served as a coach at the U.S. Women's Select Festivals in 2004, 2005 and 2006.
"It's always an honor to be associated with USA Hockey and serving as the head coach of the U.S. Women's National Under-18 Team," said Kampersal. "Along with the entire staff, I look forward to working closely with our players and achieving success."
During his tenure at Princeton, Kampersal has been named the ECAC Coach of the Year on three occasions (2001-02, 2005-06, 2008-09) and his teams have finished at or above .500 in nine of the past 10 seasons. He was selected to coach the 2009-10 ECAC All-Star team in its exhibition game against the U.S. Women's National Team. He led the 2005-06 Tigers to a program-high 21 wins, an Ivy League championship, a second-place finish in the ECACHL and Princeton's first NCAA tournament berth.
A 1992 graduate of Princeton, Kampersal served as team captain of the men's ice hockey team as a senior. An All-Ivy League and All-ECAC selection, Kampersal shares the school record for consecutive games played with 107. He also was awarded the 1941 Championship Trophy, given to the Princeton player who best represents the winning spirit of the 1941 championship team.
A 10th-round selection of the New York Islanders in the 1988 NHL Entry Draft, Kampersal played for the ECHL's Richmond Renegades and the AHL's Capital District Islanders.
ABOUT KENNEDY
Kennedy has served on the coaching staff at Boston College for the last six years and helped lead the Eagles to their first Hockey East Tournament championship in 2011 as well as the 2011, 2012 and 2013 NCAA Women's Frozen Four. She served as an assistant coach with the U.S. Women's Under-18 Select Team at the 2012 Under-18 Series and the 2013 IIHF Women's World U18 Championship. She also has experience as a USA Hockey Select Festival coach. Kennedy also enjoyed a successful career both in college and with the U.S. Women's National Team (2001-06), playing on the 2002 and 2006 U.S. Olympic Teams. She currently serves as a member of the USA Hockey Board of Directors as an athlete director. As a collegiate player, Kennedy was a three-time All-American selection and a top 10 finalist for the prestigious Patty Kazmaier Memorial Award. She led the Minnesota Golden Gophers to their first national title as a junior, in 2000. As a senior, Kennedy earned Western Collegiate Hockey Association (WCHA) Player of the Year and Defensive Player of the Year honors. In 2001, she was also a top three finalist for the Patty Kazmaier Memorial Award.
ABOUT LACHAPELLE
Lachapelle will be making her Team USA coaching debut with the 2013 U.S. Women's National Under-18 Team, however, she has coached at USA Hockey camps the last five summers, helping at various Girls' Select 14, 15 and 16 Player Development Camps. Lachapelle has been an assistant women's ice hockey coach at Boston University since 2008, after stints at Ohio State, Niagara and Union, and received the 2013 Women's Ice Hockey Assistant Coach Award from the American Hockey Coaches Association. She helped BU to three Hockey East titles and four consecutive NCAA tournament appearances with the Terriers, including a trip to the 2011 and 2013 national title game. As a player at Providence, Lachapelle was a team captain, earned All-ECAC honorable mention recognition and was named to the 1997 ECAC All-Star Team.
NOTES: Reagan Carey (Colorado Springs, Colo.), USA Hockey's director of women's hockey, is serving as the general manager of Team USA at the 2013 Under-18 Series against Canada in Lake Placid, N.Y., and the 2014 IIHF Under-18 Women's World Championship ... Approximately 30 players will be invited to the U.S Women's National Under-18 Evaluation Camp Aug. 12-20, in Lake Placid, N.Y. ... The camp will culminate with the selection of a 22-player roster that will represent the U.S. in a three-game series against Canada from Aug. 21-25 in Lake Placid ... The IIHF Under-18 Women's World Championship is scheduled to be played for the seventh time and will include teams from Canada, the Czech Republic, Finland, Hungary, Japan, Russia, Sweden, and the United States ... The dates and location of the tournament will be announced at a later date ... Team USA captured gold in each of the first two years of the tournament (2008, 2009) and again in 2011 ... The team has taken home the silver medal in 2010, 2012 and 2013.
U.S. National Under-18 Team
Coaches & Results
| | | |
| --- | --- | --- |
| U18 Series vs. Canada | | IIHF U18 Women's World Championship |
| | | | | | | |
| --- | --- | --- | --- | --- | --- | --- |
| Year | Head Coach | Record (Place) | | Year | Head Coach | Record (Place) |
| 2012 | Jeff Kampersal | 1-0-1-1* | | 2013 | Jeff Kampersal | 4-0-0-1* (2nd) |
| 2011 | Heather Linstad | 1-0-0-2* | | 2012 | Heather Linstad | 4-0-0-1* (2nd) |
| 2010 | Jodi McKenna | 2-1-0-0* | | 2011 | Jodi McKenna | 5-0-0-0* (1st) |
| 2009 | Katie King | 1-0-0-2* | | 2010 | Katie King | 4-0-1-0* (2nd) |
| 2008 | Mark Johnson | 2-0-1-0* | | 2009 | Mark Johnson | 4-1-0-0* (1st) |
| 2007 | Katey Stone | 0-0-1-2* | | 2008 | Katey Stone | 5-0-0-0* (1st) |
| Totals | | 7-1-3-7* | | Totals | | 26-1-1-2* |
* W-OTW-OTL-L
USA Hockey Makes Commitment To USOC's Stop Abuse in Sports Campaign
Encourages Its Membership To Do The Same
COLORADO SPRINGS, Colo. - USA Hockey announced today it has formally joined the United States Olympic Committee's "Make the Commitment to Stop Abuse in Sport" campaign.
"We applaud the efforts of the USOC," said
Dave Ogrean
, executive director of USA Hockey. "We've always been focused on providing the best possible environment for our participants, particularly children. By signing on to be part of this initiative, we're reinforcing to all those involved in USA Hockey our continued commitment and emphasis on ensuring a safe and abuse-free environment for everyone.
"While we made the commitment as an organization, we encourage everyone associated with USA Hockey to go the
USOC website
and make the commitment as an individual."
USA Hockey has long been a leader in the youth sports community in safety, both on and off the ice. The organization announced this fall its
USA Hockey SafeSport
program, an enhancement to its off-ice safety initiatives.
As part of the continued implementation of USA Hockey SafeSport, over the course of the next two weeks USA Hockey will be reaching out to its coaches, volunteers, staff and officials to provide them access to USA Hockey SafeSport online training, which is focused on reducing, recognizing and responding to potential abuse situations.
"We know that statistics clearly show that abuse happens throughout society, including in the youth sports environment," said Ogrean. "We'll continue to be vigilant in utilizing all resources available to influence the elimination of unacceptable behavior."
USA Hockey Announces Technology Partnership with Sport Ngin
Overhaul of USA Hockey Web Platform to be Complete by end of August
COLORADO SPRINGS, Colo. ― USA Hockey announced today it has selected Sport Ngin, a leading provider of web and mobile-based software solutions for sports organizations, to develop and manage its extensive online presence. Sport Ngin will also become the "Preferred Technology Provider of USA Hockey.
"Sport Ngin provides us an opportunity to seamlessly connect our online and mobile properties," said Dave Ogrean, executive director of at USA Hockey. "In the end, the Sport Ngin platform will provide greater capability for those throughout our organization and also help to better serve our fans and marketing partners."
A world-class technology innovator, Minneapolis-based Sport Ngin specializes in the execution of digital sports content strategy, design, and marketing. With more than 200,000 sports organizations, teams, leagues, clubs, associations, and tournaments currently using its proprietary software platform across the United States and Canada, Sport Ngin is one of the largest privately held sports technology companies in North America.
"We're extremely pleased that USA Hockey has entrusted us as its preferred technology provider" said Justin Kaufenberg, co-founder and chief executive officer of Sport Ngin. "We're confident that our platform will help USA Hockey in its efforts to deliver the best possible service to its members, and will help attract more players and fans to the sport."
Sport Ngin is currently in the process of a complete redesign of
USAHockey.com
, which is anticipated to be completed in full by the end of August. In addition to design, maintenance and on-going technology development and enhancement, Sport Ngin will also handle all customer service related to the website for USA Hockey.
"We're excited about this partnership with Sport Ngin for many reasons," said Mike Bertsch, assistant executive director of marketing, communications and events for USA Hockey. "Not only do they provide a robust platform with cutting-edge technology, but they're also committed to assisting us in generating new revenue to support initiatives throughout our organization."
About Sport Ngin
Formerly TST Media, Sport Ngin is the leading provider of web software and mobile applications for youth, amateur, and professional sports. Powering more than 200,000 sports teams, leagues, clubs, and associations, Sport Ngin features a complete suite of easy-to-use tools that help sports organizations manage, connect, and communicate with a diverse range of stakeholders, including athletes, parents, administrators, coaches, referees, scouts, volunteers, fans, journalists, and sponsors. Founded in 2008, Sport Ngin is based in Minneapolis, Minn. For more information, click
here
. You can also like the company on
Facebook
, or follow Sport Ngin on
Twitter
.
About USA Hockey, Inc.
USA Hockey, Inc., founded on October 29, 1937, and headquartered in Colorado Springs, Colo., provides the foundation for the sport of ice hockey in America; helps young people become leaders, even Olympic heroes; and connects the game at every level while promoting a lifelong love of the sport. With a membership of nearly 600,000 players, coaches, officials, and volunteers that span all 50 states, USA Hockey serves as the national governing body for the sport in the United States and possesses partnerships with the National Hockey League, United States Olympic Committee, and International Ice Hockey Federation. For more information, click
here
. You can also like USA Hockey on
Facebook
or follow USA Hockey on
Twitter
.
2013-14 Brendan Burke Internship Applications Now Being Accepted
COLORADO SPRINGS, Colo. - Applications for USA Hockey's 2013-14 Brendan Burke Internship are now being accepted. The 10-month internship, to run Aug. 1, 2013 - June 1, 2014, is designed for a recent college graduate interested in pursuing a career in hockey operations.
Established in April 2010, the Brendan Burke Internship was founded in memory of the late Brendan Burke, who served as a student assistant for the Miami University men's ice hockey team and is the son of Brian Burke, general manager of the 2010 U.S. Olympic Men's Ice Hockey Team and scout for the National Hockey League's Anaheim Ducks. Brendan Burke passed away in an automobile accident on Feb. 5, 2010.
The 2013-14 Brendan Burke Intern will be based in Ann Arbor, Mich., home of USA Hockey's National Team Development Program. Responsibilities will include interface with the NTDP, national teams, international events and player development camps and also include exposure to USA Hockey's acclaimed American Development Model and Coaching Education Program. The deadline for application submissions is Friday, May 24, 2013. Full details on the internship, including the application form, can be found at
BrendanBurkeInternship.com
.
NOTES: Ryan Breen
(North Falmouth, Mass./Providence College) is the current and third Brendan Burke Intern. Previous Brendan Burke Interns include
Stephen Greenberg
(West Tisbury, Mass./Boston College) and
Cole Burkhalter
(Knoxville, Tenn./Canisius College) ... Donations to the Brendan Burke Internship can be made by clicking
here
.
************************************************
On this date in 1897, the first annual Boston Marathon was held. It was the first of its type in the U.S.
************************************************
Mallett healthy and ready to spark Ticats backfield.

Justin Dunk's 2013 CFL Mock Draft - V1.0.


Visit the league's official website at
cfl.ca
.




************************************************



U.S. President Franklin D. Roosevelt issued a proclamation that removed the U.S. from the gold standard on this date in 1933.



************************************************



Tampa, FL. —Two prime-time games at home, including an old-school Monday Night matchup with in-state rival Miami, and an opener in the Meadowlands highlight the Bucs' most intriguing regular-season schedule in years.

Read the rest here.
************************************************

According to a new study, if a person drinks too much, exercise can help protect the brain from the damage caused by the booze. [You can always tell when the guy on the stationery bike at your fitness club has had too much to drink. He's the only one signaling turns.]

************************************************
Baltimore, MD. -- Mercifully, Tampa Bay's first road stretch is complete, and based on what happened during the trip, the final game's outcome seemed fitting given the level of frustration reached during the team's 11 days away from St. Petersburg.

Matt Wieters' grand slam in the bottom of the 10th gave the Orioles a 10-6 walk-off win Thursday night at Camden Yards, with 13,986 watching.

Read the rest here.
************************************************
If you landed this job, would you tell your family? A Chinese company is looking for a "chief pornography-identification officer" to search the web for smut and report about it. The job pays $30,000 a year, decent in China's job market.
************************************************
Milwaukee, WI. -- It was Weather Day for local elementary students in Milwaukee on Wednesday, and rain was in the forecast both inside and outside the domed confines at Miller Park. The Brewers drilled a trio of two-run homers in the first three innings against Matt Cain, finishing off a sweep of the Giants with a 7-2 outcome.

Read the rest here.
************************************************
ABC is about to announce a bloopers special. Hosted by Chris Harrison, the one-hour special called The Bachelor's Funniest Moments (airing May 21) will feature goofs, gaffes and general hilarity spanning all 17 seasons of The Bachelor and 8 seasons of The Bachelorette.

... Most guys surveyed said they found the practice "completely unacceptable."
************************************************
You're reading the Johnny Blog. Almost as much fun as listening to your dog snore, isn't it?
************************************************
1960 -
Elvis Presley released his first single since leaving the U.S. Army. The song was "Stuck On You."
1965 -
Elvis Presley completed work on his parts in the movie "Harum Scarum."
1995 -
The video "Elvis - The Lost Performances" was certified by the RIAA at 100,000 copies sold.
************************************************
Saturday is Record Store Day. Independently owned music stores will act as one with the purpose of celebrating the unique purpose that they occupy in the country. Participating record stores usually hold special events.
************************************************
Today in Beatles History:
1965 -
The Beatles released "Ticket to Ride."
1967 -
The Beatles & Co. partnership was formed. The agreement was that John, Paul, George and Ringo would stay together for the next 10 years.
2006 -
Tickets went on sale for the Cirque de Soleil show "LOVE". The show featured 26 Beatles songs.
************************************************

IN THEATERS THIS WEEKEND - Oblivion (PG-13)

************************************************
1958 -
The San Francisco Giants and the Los Angeles Dodgers played the first major league baseball game on the West Coast. This was the first game in the Los Angeles Coliseum.
1960 -
Baseball uniforms began displaying player's names on their backs.
1966 -
California opened Anaheim Stadium against the Chicago White Sox.
1968 -
In Chicago, the National League approved expansion to Montreal and San Diego. Dallas-Fort Worth failed in its bid for an NL franchise.
1988 -
The Philadelphia 76ers retired Julius Erving's #6 before a home game. A Dr. J statue was also unveiled.
1992 -
Michael Jordan won his sixth consecutive NBA scoring title with an average of 30.1.
1999 -
Cal Ripken Jr. (Baltimore Orioles) was placed on the disabled list for the first time in his 19 year career. He was suffering from a back problem.
************************************************
On this date in 1951, General Douglas MacArthur gave his "Old Soldiers" speech before the U.S. Congress. In the address General MacArthur said that "Old soldiers never die, they just fade away."
************************************************
Coming Up:

Tonight --
MLB -- Tampa Bay Rays vs Oakland Athletics 7:10pm EDT
MLB -- San Francisco Giants vs San Diego Padres 10:10pm EDT
Saturday --
MLB -- Tampa Bay Rays vs Oakland Athletics 7:10pm EDT
MLB -- San Francisco Giants vs San Diego Padres 9:05pm EDT
Sunday --
Nascar Sprint Cup Series -- STP 400 at Kansas Speedway 1:00pm EDT
MLB -- Tampa Bay Rays vs Oakland Athletics 1:40pm EDT
Izod Indy Car Series -- Toyota Grand Prix of Long Beach 4:00pm EDT
MLB -- San Francisco Giants vs San Diego Padres 4:05pm EDT
NHL Hockey -- Tampa Bay Lightning vs Carolina Hurricanes 6:00pm EDT
NAHL Playoff Hockey -- Wenatchee Wild vs Fresno Monsters 8:05pm EDT
************************************************
That's all for today. Thanks for stopping by, see you tomorrow!