It's Friday. Here's what's happening....
************************************************
Today is February 7th, the 38th day of 2014. There are 327 days left in the year.
************************************************
Blackhawks acquire Regin, Bouchard
from Islanders
.
Watch: 2 missed penalty shots and
a hat trick
?
Visit the official league website,
http://www.nhl.com/
.
************************************************
Today's Birthdays: James Spader (The Blacklist, The Office) is 54; Eddie Izzard is 52; Chris Rock is 49; Ashton Kutcher (Two and a Half Men, jOBS) is 36.
************************************************
Tampa, FL. --
For the Tampa Bay Lightning, it was another game derailed by injuries in a 4-1 loss to Atlantic Division rival the Toronto Maple Leafs Thursday night at the Tampa Bay Times Forum.
Read the rest
here
.
************************************************
Scientists say that shivering could help you lose weight. [Which is why they're changing the Polar Vortex's name to Jenny Craig.]
************************************************
Fairbanks, AK. – The Wenatchee Wild took on the Fairbanks Ice Dogs Thursday night in the first of a three-game set at the Big Dipper Ice Arena and it was a late second period goal that proved to be the difference, as the Ice Dogs slipped past Wenatchee 3-2.
Chandler Madry opened the scoring for Fairbanks at 13:41 of the opening period, assisted by Willie Brooks, for a 1-0 Ice Dogs lead. The lead grew soon after, on a Taylor Munson goal, assisted by Viktor Liljegren at 15:45, putting Fairbanks up 2-0.
The Wild got on the board early in the second, as James Mathias (Ontario, California) rolled one through the goaltender and in. The goal, at 3:06, was assisted by Gadel Gumerov (Nizhnekamsk, Russia) and Christian Salvato (La Verne, California), bringing Wenatchee to within one, at 2-1. Just over 11 minutes later, Omar Mullan (Dearborn, Michigan) popped home a rebound of an Alex Bontje (Nobleton, Ontario) shot at 14:33, bringing the Wild even, at 2-2. Brett Gervais then scored from Lonnie Clary at 17:35, putting the Ice Dogs back on top, at 3-2.
The game moved through the third period with no scoring and few shots on either goal. Wenatchee would pull their goaltender in the final minute, but weren't able to net the equalizer, as Fairbanks held on for the 3-2 win. "They (Ice Dogs) played harder than we did" said Wenatchee Wild Head Coach Bliss Littler. "They won all the 50/50 battles. Chase Perry kept us in the hockey game tonight. When you play the best team in the league you've got to have a better effort than that. I don't know if it was a bad effort, but against the best team in the league, it wasn't a good enough effort." Littler continued, saying "When you're playing the best team in the league, your power play has to give you something. Right now on this trip, we've definitely struggled on the power play, so we need work, see some video tomorrow and figure out a way get the puck in the net when we have the extra guy on the ice."
Fairbanks outshot the Wild 30-22. Chase Perry (Andover, Minnesota) made 27 saves for Wenatchee; Kevin Aldridge had 20 stops for the Ice Dogs. The Wild was 0-for-2 on the power play and 4-of-4 on the penalty kill.
Wenatchee is now 22-18-5; Fairbanks is now 33-13-0.
Wenatchee remains in Fairbanks for two more games tomorrow (Friday) and Saturday, before returning home to face the Soo on February 14th and 15th. Individual and group game tickets for all home games are on sale now. Call 509.888.PUCK (7825).
WILD 2.0 UPGRADE
************************************************
DeWitt and Lila Acheson Wallace offered 5,000 copies of "Reader's Digest" magazine for the first time on this date in 1922.
************************************************
Labatt Blue/USA Hockey Pond Hockey National Championships
Set to Begin Tomorrow
Ninth annual event will see record numbers
COLORADO SPRINGS, Colo. - The ninth annual Labatt Blue/USA Hockey Pond Hockey National Championships are set to take place this weekend (Feb. 7-9) on Dollar Lake in Eagle River, Wis. The event will feature 336 teams and nearly 2,300 players participating in 600 games on 30 rinks.
Players in the 2014 Labatt Blue/USA Hockey Pond Hockey National Championships will represent 30 different states, including Arizona, California, Colorado, Delaware, Georgia, Idaho, Iowa, Illinois, Indiana, Kansas, Kentucky, Maryland, Massachusetts, Michigan, Minnesota, Missouri, Mississippi, Nevada, North Carolina, New Jersey, New York, Ohio, Oregon, Pennsylvania, South Carolina, Texas, Utah, Virginia, Washington, and Wisconsin. Teams will play in 19 different divisions, including five women's divisions, on an ice surface currently 20 inches thick. Registration for the event opened July 29, 2013, and was completely sold out two days later on July 31.
The immense popularity of the event has resulted in continued expansion over the years. In 2012, the event attracted 281 teams that took part in 511 games on 24 rinks. Last year, the Labatt Blue/USA Hockey Pond Hockey National Championships featured 28 rinks and 18 divisions. The inaugural event in 2006 included 40 teams and 240 players.
Full coverage of the Labatt Blue/USA Hockey Pond Hockey National Championships can be found here. Additionally, the USA Hockey Adult Events app, which launched last week on Android and iOS devices, will provide participants, spectators, and fans with the opportunity to follow all teams, divisions and games. The USA Hockey Adult Events app is available in theApple App Store and on Google Play.
In addition to Labatt Blue/USA Hockey Pond Hockey National Championships game action, a specially designed, 300-by-130-foot rink will be on display Saturday (Feb. 8). Participants will be encouraged to play on the rink, which will simulate what it's like for an 8-and-under player skating on an NHL-sized ice sheet.
U.S. National Under-18 Team Rolls Over Finland, 8-3,
at 2014 Five Nations Tournament
Eichel, Milano and Tuch Register Three-Point Efforts
DMITROV, Russia - Jack Eichel (North Chelmsford, Mass./2-1), Sonny Milano (Massapequa, N.Y./0-3) and Alex Tuch (Baldwinsville, N.Y./1-2) had three points each as the U.S. National Under-18 Team rolled over Finland, 8-3, here today at Dmitrov Arena. With the win, Team USA's record at the 2014 Under-18 Five Nations Tournament improves to 2-0-0-0 (W-OTW-OTL-L).
After a scoreless first period, Johnathan MacLeod (Dracut, Mass.) opened the scoring just 25 seconds into the second. The goal, scored while Team USA enjoyed a two-man advantage, was assisted on by Brandon Fortunato (North Hills, N.Y.) and Milano. Finland evened the score at 4:59 before Tuch responded for the U.S. at 6:24. Dylan Pavelek (Marysville, Mich.) extended the lead, 3-1, but Finland climbed back to within one midway through the frame. Back-to-back markers, potted in the last two minutes of the period, put Team USA up, 5-2, heading into the third stanza. Shane Gersich (Chaska, Minn.) and Eichel lit the lamp for the Americans.
Eichel tallied his second of the game at 7:03 of the third period, teaming up with Tuch and Milano who earned assists on the play. Dylan Larkin (Waterford, Mich.) found the back of the net at 9:53 to further extend the team USA advantage, 7-2. Finland struck on the power play at 12:05, but Ryan Wagner (Park Ridge, Ill.) answered nine seconds later and the U.S. skated away with the 8-3 win.
Edwin Minney (Wind Gap, Pa.) kicked out 25 shots in the victory for Team USA, while Kaapo Kahkonen and Veini Vehvilainen combined to make 20 saves in the loss for Finland.
The U.S. National Under-18 Team will skate against Sweden tomorrow (Feb. 7) at Dmitrov Arena. Puck drop is slated for 6:30 a.m. EST.
NOTES:
Shots between the United States and Finland were tied, 28-28 ... The U.S. went 1-3 on the power play, while Finland went 1-5 ... For the complete U.S. National Under-18 Team roster, click
here
... The U.S. National Under-18 Team is seeking its first title at the Five Nations Tournament since 2011. Team USA has claimed first place six times (1999, 2005, 2007-09, 2011) ... Follow
@USAHockeyScores
on Twitter for live scoring updates during the Five Nations Tournaments. Scores will be designated with the
#5nationsU18
tag ... For additional coverage, visit the NTDP
Facebook
page and follow
@USANTDP
on Twitter ... The U.S. National Under-18 Team trains with
The Hockey IntelliGym
, a revolutionary new software program that trains hockey sense. To learn more, visit
USAHockeyIntelliGym.com.
2014 U18 Five Nations Tournament Schedule - United States
Feb. 4-8, 2014 • Dmitrov, Russia
Date
Opponent
Location
Time (EST) / Result
Tues., Feb. 4
Russia
Dmitrov
W, 5-2
Thurs., Feb. 6
Finland
Dmitrov
W, 8-3
Fri., Feb. 7
Sweden
Dmitrov
6:30 a.m.
Sat., Feb. 9
Czech Republic
Dmitrov
6:30 a.m.
ABOUT THE NTDP: In 1996, USA Hockey launched a new initiative called the National Team Development Program, based in Ann Arbor, Mich. Celebrating its 17th season of play in 2013-14, the goal of this full-time development program is to prepare student-athletes under the age of 18 for participation on U.S. National Teams and success in their future hockey careers. Its efforts focus not only on high-caliber participation on the ice, but creating well-rounded individuals off the ice.
Seventh Annual Hockey Weekend Across America
Just Three Weeks Away
Registration Open for More Than 400 "Try Hockey for Free" Events
COLORADO SPRINGS, Colo. – USA Hockey will lead the nation in the seventh annual Hockey Weekend Across America, presented by CCM, Feb. 28-March 2.
"Hockey Weekend Across America is one of the marquee events on the calendar each year," said
Dave Ogrean
, executive director of USA Hockey. "This year will be unique as we'll celebrate Hockey Weekend Across America the weekend immediately following the conclusion of the Olympic Winter Games."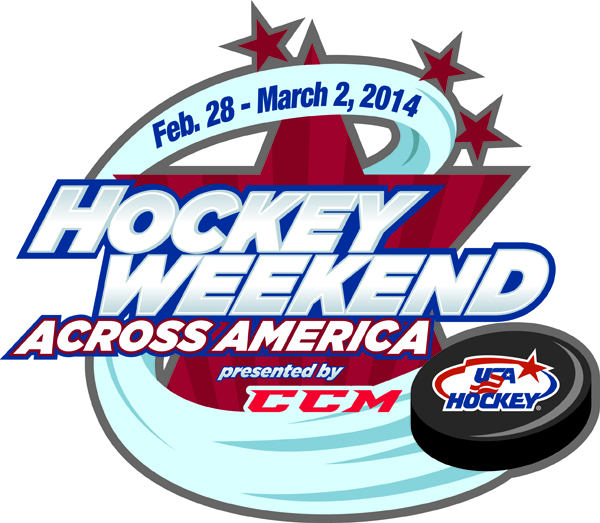 Each of the three days of Hockey Weekend Across America features a special theme.
"Wear Your Favorite Jersey Day" on Friday, Feb. 28, is the day for fans to show off their hockey pride by wearing their prized hockey jerseys. USA Hockey's
Facebook
and
Twitter
pages will accept photos from families, friends, and colleagues in search of the most passionate hockey fans.
Saturday, March 1 is Try Hockey Day, sponsored by the NHL. Hundreds of rinks nationwide will host 'Try Hockey for Free' clinics, allowing thousands of children to experience hockey for the first time. To find a participating rink near you and register, visit
TryHockeyforFree.com
.
To cap off the weekend, "Celebrate Local Hockey Heroes" day on Sunday, March 2, encourages hockey programs nationwide to develop ways to honor their local hockey heroes. USA Hockey invites all to post pictures and stories on its
Facebook
and
Twitter
pages. The day also includes NBC's Hockey Day in America coverage.
Fans 13 years of age and older can register for the Hockey Weekend Across America "Great Day for Hockey" Sweepstakes at
HockeyWeekendAcrossAmerica.com.
Three grand prize packages will be awarded, each including hockey skates, a hockey stick, a helmet/facemask combo and hockey gloves, courtesy of CCM. Second and third prizes will also be awarded with the drawing taking place.
Associations, teams and communities celebrating Hockey Weekend Across America are encouraged to submit their event plans to USA Hockey at
HockeyWeekendAcrossAmerica.com
.
At each of 15 NHL games in American cities during
Hockey Weekend Across America
, two young officials will have a chance to meet the NHL officials working the particular contest prior to the game and then stay to watch those NHL officials in action.
For full information surrounding the weekend, visit
HockeyWeekendAcrossAmerica.com.
Visitors can seek out activities around their community or across the country, participate in exciting giveaways and download promotional materials.
NOTES:
Hockey Weekend Across America was created by USA Hockey in 2008 to engage the hockey community in celebrating the sport of hockey at all levels and exposing the sport to new audiences ... Liberty Mutual Insurance Responsible Sports Program and Total Hockey are sponsors of Try Hockey for Free Day.
************************************************
"Pinocchio" world premiered at the Center Theatre in Manhattan on this date in 1940.
************************************************
Chamblin reflects on moment he thought of
head coaching
.
Getting their man: Bombers acquire QB Willy
from Riders
.
Please visit the league's official website,
cfl.ca
.
************************************************
Portland, Oregon, meteorologists and transportation officials warned drivers "Don't be Atlanta" as winter weather moved into the region Thursday. The warning came a little more than a week after Atlanta made headlines during a storm that hit the area.
************************************************
Tampa, FL. — Mel Kiper Jr. and Todd McShay have their latest mock drafts out, and they're in agreement on who the Tampa Bay Buccaneers will take at No. 7.

Read the rest here.
************************************************

An Olympics condom count has become a tradition. There's a lot of down time in the Olympic athletes' village -- and a lot of fit men and women. And reporters always want to know: how many condoms are available for the 7,000 athletes? At Sochi the count is 100,000. A record 150,000 condoms were on hand for the London Games.

************************************************
************************************************
You're reading the Johnny Blog. Almost as much fun as battling the crowds to go out to dinner, isn't it?
************************************************
Today in Elvis History
1959 -
Elvis Presley attended a Holiday on Ice show in Frankfurt, Germany.
1988 -
The TV mini-series "Elvis and Me" (based on Priscilla Presley's book) began on ABC-TV.
2006 -
The Elvis Presley collection "Southern Nights" was released in the U.S. It contained 25 tracks.
************************************************
Three people were arrested after Florida deputies a marijuana plant and hundreds of grams of methamphetamine inside a home (in Lake Wales). Also found were illegal fish and two frozen alligators.
************************************************
T
oday in Beatles History:
1964 -
The Beatles arrived in New York to begin their first U.S. tour.
************************************************

TV TONIGHT: 22nd WINTER OLYMPICS - The Olympic Winter Games from Sochi, Russia, officially get under way with the Opening Ceremony (8p ET, NBC). The festivities honor Russia's history and culture and will feature the Parade of Nations, as well and the lighting of the Olympic cauldron.

************************************************
Today in Sports History:
1882 -
The last bareknuckle fight for the heavyweight boxing championship took place in Mississippi City.
1949 -
Joe DiMaggio signed a contract with the New York Yankees that was worth $100,000. It was the first six-figure contract in major league baseball.
1958 -
The Dodgers officially became the Los Angeles Dodgers, Inc.
1965 -
Cassius Clay began using the name Mohammed Ali.
1975 -
The New Orleans Jaz ended a 28 game road losing streak.
1976 -
Darryl Sittler (Toronto Maple Leafs) set a National Hockey League (NHL) record when he scored 10 points in a game against the Boston Bruins. He scored six goals and four assists.
1976 -
Dave Reece (Boston Bruins) played his last game in the NHL.
1985 -
"Sports Illustrated" released its annual swimsuit edition. It was the largest regular edition in the magazine's history at 218 pages.
1988 -
Mike Tyson and Robin Givens were married.
1989 -
The 40th NHL All-Star Game was played.
1992 -
Mike Tyson testified at his rape trial in Indianapolis.
1994 -
Michael Jordan signed a contract with the Chicago White Sox to play baseball.
1995 -
Joe Mullen (Pittsburgh Penguins) became the first American-born player to score 1,000 points in the NHL. Mullen ended his career with 1,063 career points.
1995 -
U.S. President Clinton invited the two sides of the major league baseball strike to the White House in an effort to reach an agreement. The two sides did not resolve the issue that day.
1997 -
Jim Kelly (Buffalo Bills) announced his retirement from the NFL. He was the only quarterback to date to guide the same team to four losing Super Bowls.
1998 -
The Dallas Stars retired Neal Broten's #7.
2002 -
The one-hour television show entitled "NBA All-Star Read to Achieve Celebration" aired.
************************************************
60 Minutes will rebroadcast the Philip Seymour Hoffman interview in which the actor discusses his problems with addiction that may have led to his death this week. The interview conducted by Steve Kroft in 2006 will be re-edited to include previously un-broadcast material.
************************************************
NAHL Hockey -- Wenatchee Wild at Fairbanks Ice Dogs 11:30pm EST
Saturday --
USPHL Elite Hockey -- Tampa Bay Juniors at Space Coast Hurricanes 5:00pm EST
USPHL Empire Hockey -- Tampa Bay Juniors vs Florida Junior Blades 5:15pm EST
NHL Hockey -- Tampa Bay Lightning vs Detroit Red Wings 7:00pm EST
NAHL Hockey -- Wenatchee Wild at Fairbanks Ice Dogs 11:30pm EST
Sunday --
USPHL Elite Hockey -- Tampa Bay Juniors at Space Coast Hurricanes 11:45am EST
USPHL Empire Hockey -- Tampa Bay Juniors at Florida Junior Blades 12:05pm EST
************************************************
That's all for today. Thanks for stopping by, see you tomorrow!