It's Friday. Here's what's happening....
************************************************
Today is March 7th, the 66th day of 2014. There are 299 days left in the year.
************************************************
Steven Stamkos named
captain of Lightning
.
Canucks' Kassian to
have hearing
.
Visit the official league website,
http://www.nhl.com/
.
************************************************
Today's Birthdays: TV weather personality Willard Scott is 80; Bryan Cranston (Breaking Bad, upcoming Godzilla film) is 58; Rachel Weisz (Oz the Great and Powerful, The Brothers Bloom, The Mummy) is 44; Jenna Fischer (The Office, Walk Hard: The Dewey Cox Story, Solitary Man) is 40; Laura Prepon (Orange is the New Black, That '70s Show) is 34.
************************************************
Tampa, FL. --
With numerous Sabres auditioning to the Buffalo staff in the upcoming weeks, none shined more Thursday than netminder Jhonas Enroth in a near shutout of the Tampa Bay Lightning and 3-1 win at the Tampa Bay Times Forum.
Read the rest
here
.
************************************************
Charles Miller received a patent for the sewing machine on this date in 1854.
************************************************
Three Finalists Named for 2014 Patty Kazmaier Memorial Award
17th Annual Award to be Presented March 22 in Connecticut
COLORADO SPRINGS, Colo. - Sophomore forward Hannah Brandt (Vadnais Heights, Minn./University of Minnesota), senior forward Jamie Lee Rattray (Kanata, Ontario/Clarkson University) and junior forward Jillian Saulnier (Halifax, Nova Scotia/Cornell University) have been named top-three finalists for the 2014 Patty Kazmaier Memorial Award, it was announced today by USA Hockey.
The 2014 Patty Kazmaier Memorial Award will be presented at a brunch ceremony at Oakdale Theatre in Wallingford, Conn., on Sat., March 22, as part of the NCAA Women's Frozen Four weekend hosted by Quinnipiac University. The award, which is in its 17th year, is presented annually to the top player in NCAA Division I women's ice hockey.
The selection process commenced in early February when NCAA Division I women's ice hockey coaches were asked to nominate players for the award. Players who were nominated by two or more coaches were then placed on an official ballot, which was sent back to the coaches to vote for the top-10 finalists.
The three finalists, including the recipient of the 2014 Patty Kazmaier Memorial Award, were then chosen by a 13-person selection committee made up of NCAA Division I women's ice hockey coaches, representatives of print and broadcast media, an at-large member and a representative of USA Hockey, the national governing body for the sport of ice hockey in the United States. The independent accounting firm PricewaterhouseCoopers, LLP, tabulated the ballots.
Meghan Duggan
, captain of the 2014 U.S. Olympic Women's Ice Hockey Team and 2011 Patty Kazmaier Memorial Award winner, will serve as the keynote speaker. Tickets to the 2014 Patty Kazmaier Memorial Award Ceremony and Brunch can be purchased at
PattyKaz.com
. Individual seats to the event are $65, while tables of 10 are available for $600. A select number of sponsorships are also available.
2014 Patty Kazmaier Memorial Award Top-3 Finalists
| | | | |
| --- | --- | --- | --- |
| Name | Year | Pos. | School |
| Hannah Brandt | Sophomore | | University of Minnesota |
| Jamie Lee Rattray | Senior | | Clarkson University |
| Jillian Saulnier | Junior | | Cornell University |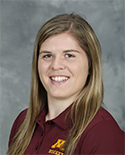 Hannah Brandt
Brandt leads the nation in points (61), assists (40) and assists per game (1.11). She is tied for ninth in the NCAA in goals (21) and tied for 14th in game-winning goals (4). The sophomore leads the WCHA in points (46) and assists (30) in conference play and is tied for second in goals (16). The Vadnais Heights, Minn., native has been named WCHA Offensive Player of the Week once this season and was selected as a WCHA Scholar Athlete. Off the ice, she volunteered with the University of Minnesota Amplatz Children's Hospital, Special Olympics of Minnesota, Roseville Youth Hockey Association, Minneapolis Youth Hockey Association, University of Minnesota Medical Center Fairview Hospital, Hope Kids and the Maplewood Care Center.

Jamie Lee Rattray
Rattray ranks second in the NCAA in points (57) and goals (28), and is tied for seventh in assists (29). She leads the NCAA in power-play tallies (9) and is tied for sixth nationally in game-winning markers (5). The senior forward ranks first in the ECAC in points (44), and second in both goals (21) and assists (23) during league play. A three-time ECAC Player of the Month (November, December, January) and three-time ECAC Player of the Week, she has also been honored as a five-time member of the ECAC Weekly Honor Roll. Rattray is an active member in the Clarkson women's hockey team's participation with the Lil' Knight Club, which volunteers with youth hockey players in the area. She also helped paint the Helping Hands building in Potsdam, N.Y., and assisted in fundraising for the Dalton Guyette Memorial Award, given annually to provide opportunities to less fortunate children in the area.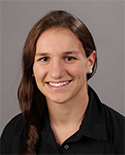 Jillian Saulnier
Saulnier is fifth in the NCAA in points (52), second nationally in goals-per-game (0.84), tied for third in goals (26) and 12th in assists (26). The Cornell junior leads the ECAC in goals (22) and ranks second in points (43) during conference outings while sitting in a third-place tie among ECAC skaters with 21 assists. She was named ECAC Player of the Week on Feb. 11. Away from the rink, Saulnier participated in the Do it for Daron game on Jan. 31 to raise awareness for mental health issues, as well as the Athlete Ally game to show support for LGBT inclusion within sports. Additionally, she registered to donate bone marrow through Be The Match registry, helped raise money for the Cancer Resource Center of the Finger Lakes region and actively served in the Cub Club Little Sister Organization.
ABOUT THE PATTY KAZMAIER MEMORIAL AWARD
An award of The USA Hockey Foundation, the Patty Kazmaier Memorial Award is annually awarded to the top player in NCAA Division I women's ice hockey. Selection criteria includes outstanding individual and team skills, sportsmanship, performance in the clutch, personal character, competitiveness and a love of hockey. Consideration is also given to academic achievement and civic involvement.
ABOUT PATTY KAZMAIER
The Patty Kazmaier Memorial Award is named in honor of the late Patty Kazmaier, who was a four-year varsity letter-winner and All-Ivy League defenseman at Princeton University from 1981-86. An accomplished athlete who helped the Tigers to the Ivy League Championship in three consecutive seasons (1981-84), Patty Kazmaier-Sandt died Feb. 15, 1990, at the age of 28 following a long struggle with a rare blood disease.
Patty Kazmaier Memorial Award Winners
| | | |
| --- | --- | --- |
| Year | Name | School |
| 2013 | Amanda Kessel | University of Minnesota |
| 2012 | Brianna Decker | University of Wisconsin |
| 2011 | Meghan Duggan | University of Wisconsin |
| 2010 | Vicki Bendus | Mercyhurst College |
| 2009 | Jessie Vetter | University of Wisconsin |
| 2008 | Sarah Vaillancourt | Harvard University |
| 2007 | Julie Chu | Harvard University |
| 2006 | Sara Bauer | University of Wisconsin |
| 2005 | Krissy Wendall | University of Minnesota |
| 2004 | Angela Ruggiero | Harvard University |
| 2003 | Jennifer Botterill | Harvard University |
| 2002 | Brooke Whitney | Northeastern University |
| 2001 | Jennifer Botterill | Harvard University |
| 2000 | Ali Brewer | Brown University |
| 1999 | A.J. Mleczko | Harvard University |
| 1998 | Brandy Fisher | University of New Hampshire |
************************************************
SPRING FORWARD - Daylight Saving Time begins Sunday morning. We move our clocks ahead one hour.
************************************************
Please visit the league's official website,
cfl.ca
.
************************************************
The Crimea Parliament has voted to secede from Ukraine, and join Russia. [On the same ballot they voted to also change the name from Crimea to Adele Dazeem.]
************************************************
Tampa, FL. — Devin Hester said Wednesday he won't be returning to the Chicago Bears. That leads to instant speculation that the record-setting return man could reunite with coach Lovie Smith in Tampa Bay.

Read the rest here.
************************************************
200,000 people applied to participate in a project called Mars One. It's a private enterprise to establish a permanent human settlement on Mars and film a reality show along the way. The thing is, right now the technology can only get them there. Now there's an 11 minute video where we get too meet the future Martians. "Mars One Way" documents the thoughts and theories of five hopeful Mars One astronauts as they contemplate the reality of leaving planet Earth forever, for a new home on Mars
************************************************


************************************************
You're reading the Johnny Blog. Almost as much as a fan storming the court, isn't it?
************************************************
Today in Elvis History
1960 -
Elvis Presley arrived back in Memphis, TN, after serving two years in the U.S. Army.
1968 -
Elvis Presley recorded "A Little Less Conversation" for the first time.
************************************************
Mahamed Abdi confronted a stranger eating outside a Seattle restaurant the other day and said, "Give me a bit of your burrito." When the burrito owner declined Abdi's request, Abdi pushed him and again demanded a bite of the burrito. As the diner got up from his seat, Abdi allegedly punched him in the forehead and fled on foot. Cops caught up to Abdi not far from where the burrito attack transpired.
************************************************
T
oday in Beatles History:
1963 -
The Beatles, Gerry & the Pacemakers, the Big Three, Billy J. Kramer & the Dakotas and several local bands played at a one-night stand called "Mersey Beat Showcase."
************************************************
Isaiah Washington, who parted ways with Grey's Anatomy after making homophobic remarks about co-star T.R. Knight, is coming back to the series. Washington will reprise his role as Dr. Preston Burke for an episode in May, which will also serve as Sandra Oh's final episode on the ABC medical drama.
************************************************
Today in Sports History:
1921 -

Cy Denneny (Ottawa Senators) scored six goals against the Hamilton Tigers.
1939 -
The Boston Bruins won the Prince Wales Trophy when they clinched the NHL regular season championship. This marked the first time the Prince of Wales Trophy was awarded for this reason.
1951 -
Ezzard Charles won a 15-round decision over Jersey Joe Walcott. It was Charles' eighth heavyweight title defense.
1954 -
The NBA raised the baskets from 10 feet to 12 feet for an exhibition game between the Minneapolis Lakers and Milwaukee Hawks.
1954 -
The Soviet Union defeated Canada in the first international ice hockey competition.
1955 -
Baseball commissioner Ford Frick said that he was in favor of legalizing the spitball.
1970 -
Austin Carr (Notre Dame) scored 61 points against Ohio University. The feat was an NCAA tournament record.
1974 -
New Orleans became the 18th NBA franchise. The team was bought by nine people for $6.15 million.
1982 -
The NCAA college basketball tournament selections were televised for the first time.
1983 -
Phil Marhe won the Alpine World Cup championship for the third straight year.
1983 -
ESPN televised the first live professional football game on cable. The game was between the USFL's Birmingham Stallions and the Michigan Panthers.
1987 -
Mike Tyson became the youngest heavyweight titlist when he beat James Smith in a decision during a 12-round fight in Las Vegas, NV.
1989 -
Tom Jordan rolled an 899 in a three-game series. It was the best three-game series to be recognized by the ABC in league play.
1995 -
Dominique Wilkins (Boston Celtics) became the ninth NBA player to achieve 25,000 career points.
1996 -
Magic Johnson (Los Angeles Lakers) became the second player to reach 10,000 assists.
1997 -
Wilson Kipketer of Kenya set the world indoor 800-meter record at 1 minute, 43.96 seconds at the World Indoor Championships in Paris.
1998 -
Wayne Gretzky (New York Rangers) scored his 1,000th NHL goal. He had scored 878 regular season goals and 122 goals in the playoffs.
************************************************
IN THEATERS - 300: Rise of an Empire (R); Mr. Peabody & Sherman (PG)
************************************************



NAHL Hockey -- Wenatchee Wild vs Fairbanks Ice Dogs 10:05pm EST
Saturday --
Nascar Nationwide Series -- Boyd Gaming 300 at Las Vegas Motor Speedway 4:15pm EST
NHL Hockey -- Tampa Bay Lightning vs Boston Bruins 7:00pm EST
NAHL Hockey -- Wenatchee Wild vs Fairbanks Ice Dogs 10:05pm EST
Sunday --
Nascar Sprint Cup Series -- Kobalt 400 at Las Vegas Motor Speedway 3:00pm EDT
************************************************
That's all for today. Thanks for stopping by, see you tomorrow!